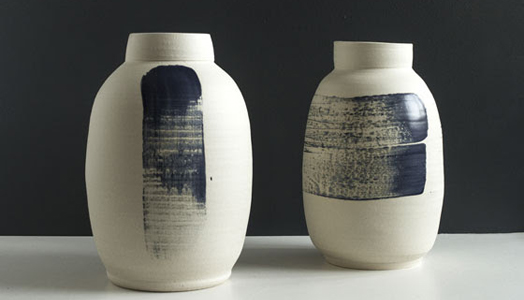 .
The Cobalt Collection by ceramist Pascale Girardin will be on sale at Souk@Sat Design Show Nov 27-30, 2014 in
Saint-Lawrence Blvd, Montreal.
"After treading the soils of China, then Japan," says Pascale Girardin turning poetic with her ceramic vases… "My heart turned blue: an indigo blue, like the Shibori patterns on Japanese Norens; Ink blue, like the deep glazes on Kaneko's pots; Cobalt blue, like the paint strokes that stroke the walls of Qin dynasty porcelains."
Her vases are witness to a life dedicated to the practice and mastery of an ancient art unveiling the secrets of ceramic art. The artist, who has been working for the last 18 years, says that the medium continues to enthrall her, surprise and teach her to listen, observe and be patient, deepening her understanding of the art and life in general.
http://www.pascalegirardin.com/