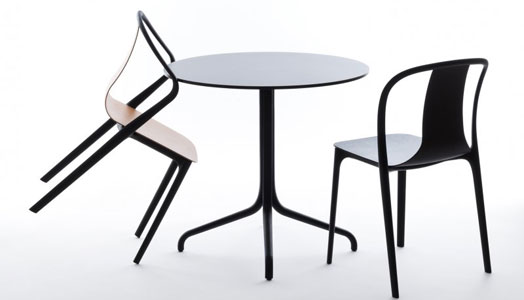 .
The Bouroullec Brothers are back with a brand new project - Belleville Collection.
This collection comprises of a chair and an armchair as well as rectangular and round tables (with aluminium legs and different tops). It is composed of a main frame in black polyamide that supports shells in different materials: polypropylene, ultra-thin plywood (4.5 mm) or upholstered (fabric or leather).
Belleville collection accepts and conveys many different environments: indoor and outdoor, private and public as its
hybrid construction makes the chair subtle in regards of different situations: from one side the polyamide version allows heavy-duty outdoor locations, while on the other hand, the upholstery and plywood shell versions belong to a softer landscape.
The "one line" frame structure links the feet to the shells and continues into the armrests and into the backrest, which makes the chair light, easy to grab and stack.
Info & Images: Courtesy
bouroullec
.com