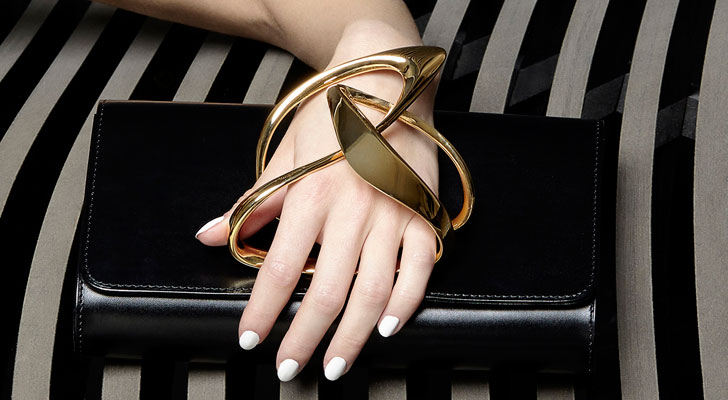 .
Parisian leather goods artisans, Perrin Paris have unveiled their collaboration with Zaha Hadid Design; a limited-edition collection of seven leather clutches.
Combining the finest quality skins with conceptual design, the fluid forms of each metallic glove-piece is designed and crafted to enable the clutch to be worn on either the right or left hand - a striking combination of Hadid's unmistakable design language with Perrin's heritage and expertise of soft handcrafted leather.
The 'Perrin Paris x

Zaha

Hadid

' collection consists of seven clutches with three different sculptural metal glove-pieces – Strae, Loop and Mobi – as part of a limited-edition series. The leather clutch is finished in five colours: black, white, blush, lipstick and electric blue, with sculpted metallic glove-pieces in a variety of finishes including gold, rose gold, silver, or the red and blue of their corresponding leather clutches.
Info & Images: www.zaha-hadid-design.com