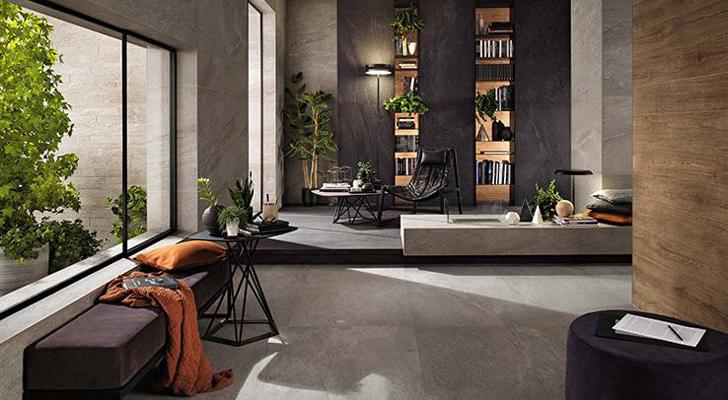 .
Atlas Concorde porcelain floors reproduce the details of the materials inspired as they are from their extreme naturalness.
The technical performance of porcelain stoneware is merged with in-depth research to create large-size slabs that bear a distinctive allure to any setting. The collections combine functionality and simplicity of application in the concept of concrete-effect ceramics. The warm shades of oxidation coexist with the cooler hues typical of concrete, in a ceramic surface that stands out for its decisive identity. When used in combination with ceramic surfaces having a marble or wood effect, it creates more interesting stylistic fusions.
Sizes range from 120×120 and 120×240 with a 9 mm thickness, and the new 120 × 278 cm format with a 6 mm thickness is ideal for meeting the most varied compositional and design needs. Outdoor flooring in the 120×120 cm format with a 20 mm thickness features a non-slip surface. The three-dimensional ceramic surface meets the needs of contemporary interior decoration, creating walls rich in reliefs with a refined design.
Info & images: www.atlasconcorde.com