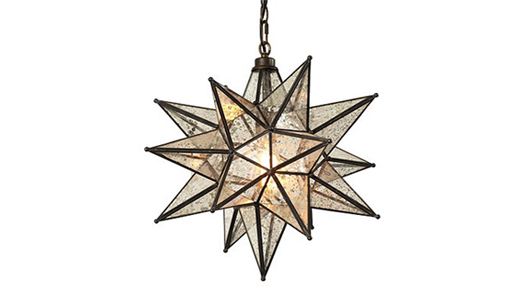 .
Make your living area a focal point with "Moravian

Star Mercury" chandelier.
Originally a Christmas decoration from the 19th-century, the Moravian star is still popular today for its strong geometric form and whimsical sparkle. Larger than most pendants out there, Moravian Star Pendant is perfect anywhere you want a special focal point. Its overall dimension is 19
1/2"H X 19" Diameter, Ceiling Canopy: 5" Diameter and the chain that hooks to your ceiling is 6 inch in length. It's
made
of hand-welded metal frame and a
ntiqued mercury glass panes
. Cord is 6'L and black.
It's simple yet classic.
http://www.ballarddesigns.com/moravian-star-pendant/292469?cm_re=SuperCat-_-Index-_-JF14D3+Lighting