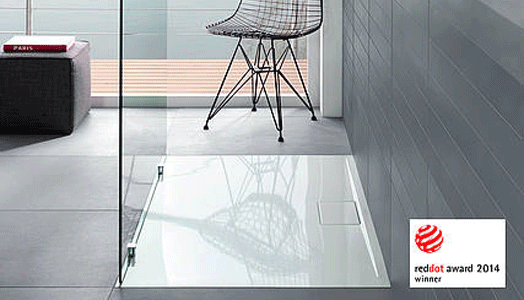 .
Villeroy & Boch's new shower floors Architecture MetalRim wins design excellence - red dot

product design

2014.
Johan de Groot, product designer from Netherlands is responsible for the new Architectura MetalRim shower floor, which is characterized by its ultra-slim, edgeless design fits harmoniously into every bathroom. Manufactured from high-quality acrylic with an attractive high-gloss surface, its design highlight is the integrated valve cover that lies flush with the surface of the shower floor. The valve cover in white, chrome plated or matt chrome enhances the minimalistic design language of the shower floor family.
The fascinating diversity of
31 models and the minimalist style provide individual design and installation options for every interior, including barrier-free access. Additional safety is provided by the optional anti-slip coating with Class C Vilbogrip.
http://www.villeroyboch-group.com/