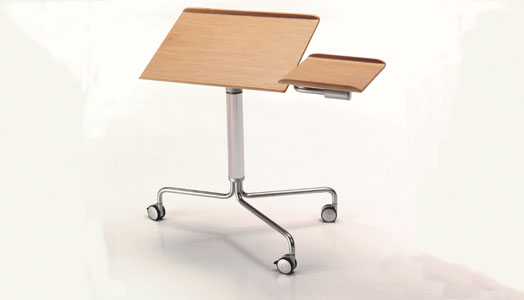 .
Vector Projects brings to India the Archimede Laptop Caddy, a perfect combination of convenience and versatility.
Designed as a multi-functional product by Leonardo Rossano, Archimedes has the strength of stainless steel, coupled with bent legs, central column and supporting plates guaranteed to carry out many rotary movements without welding points and nylon castors.
Its adaptability allows correct height and inclination adjustments depending on individual needs. It can be used while being seated on a sofa, lounge chairs or even while standing. The tops are independently adjustable in several inclinations and heights allowing simple manual operations.
Another feature is the option of vertical folding, which makes it easy to store in the narrowest of spaces. Archimede is ideal for offices & homes and can also be used to play, read, eat, and for conference-area, speech, video-home theatre, etc.
Info & Images: Courtesy
vectorprojectsindia.com